Doctors & Staff
Meet the experienced and friendly doctors and staff who make Horizon EyeCare Professionals the leading provider of vision care products and services in Owatonna.
---
Elizabeth M. "Dr. Beth" Gilthvedt, O.D.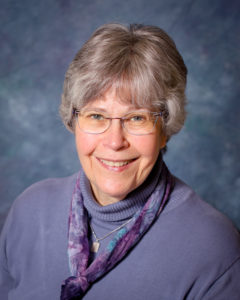 "Dr. Beth" grew up in Oklahoma City, OK and Nisswa, MN. She attended the University of Wyoming, Brainerd Community College, St. Cloud State University and Phillips University. She received her Bachelor of Science degree from Indiana University in Bloomington, IN. In May 1985 she graduated with High Honors and was awarded her Doctorate of Optometry from the Indiana University School of Optometry, where sh also received several student academic & clinical awards and scholarships.
Immediately following graduation Dr. Beth began practicing optometry at Family Vision Care in Owatonna, MN. In 1988 she purchased the practice of Dr. John Schoen, as he retired, and opened the Gilthvedt EyeCare Clinic at 118 No Oak Ave, Owatonna. From 1993 to 2010, Dr. Beth also practiced with her friend and colleague, Dr. Christine Leska, at Kasson Eye Care as a part-time associate. Dr. Beth is Board Certified in the treatment and management of ocular diseases and disorders.
In February 2008, she was chosen as the Minnesota Optometric Association's Optometrist of the Year. Dr. Beth is a member of the American Optometric Association and is very involved on the state level in the Minnesota Optometric Association and the SouthEast Minnesota Optometric Society, having served on the quality assurance, professional education and Minnesota State Fair committees. Dr. Beth enjoys making presentations about optometry and eye health care to students in local schools, to parents in Early Childhood and Family Education classes and to senior citizen groups as well as participating in community health and safety fairs. As a committed volunteer in her community,
Dr. Beth has also devoted many years of service to a variety of local groups serving as a director or trustee of the Steele County United Way, the Owatonna Montessori Children's House and the Owatonna Hospital, Allina Health System. She is currently serving on the board of the Children's Remedial Fund. She is also an active member of the Owatonna Rotary Club having served as Rotary Youth Exchange Officer and Youth Counselor. Dr. Beth is also a member of the Owatonna Business Women's organization serving on the scholarship awards committee. Dr Beth and her husband, "Pastor Ron" Gilthvedt, live in rural Owatonna with their son, Eric. She is an active member of Our Savior's Lutheran Church where her husband served as head pastor from June 1985, until his retirement in August of 2009.
---
Nicholas C. "Dr. Nick" Vincelli, O.D.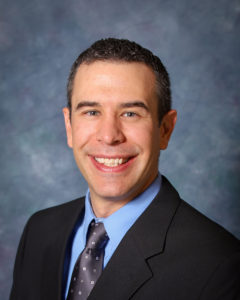 "Dr. Nick" was born and raised in Spirit Lake, Iowa. He attended Southwest Minnesota State University and graduated Summa Cum Laude with a Bachelor of Arts Degree in Biology in 2001. Dr. Vincelli then received his Degree of Doctor of Optometry, Magna Cum Laude, in 2005 from the Illinois College of Optometry in Chicago, IL.
Since 2005, Dr Vincelli has practiced optometry in southern Minnesota. He joined Horizon EyeCare in 2009. He is an active member of both the Minnesota Optometric Association, the American Optometric Association and the SouthEast Minnesota Optometric Society. Dr. Vincelli is also a member of the Tomb and Key Honor Fraternity and the Beta Sigma Kappa International Optometric Honor Society.
Dr. Vincelli's hobbies include reading, golfing, volunteering, watching MN sports teams, and spending time with his family. He resides in Owatonna with his wife, Amy, who is originally from Pipestone, MN. She has her own business, Vincelli Designs & Decor, selling handmade arts/crafts online. Dr. Nick and Amy are the proud parents of twin boys, Elijah and Will, and younger brother Caleb.
Dr. Vincelli is passionate about Optometry and about helping others. He is very caring and enjoys talking with and getting to know his patients. Dr. Vincelli truly believes and takes pride in giving helpful and professional care to his patients.
---
Penny P. "Dr. Vizina" Vizina, O.D.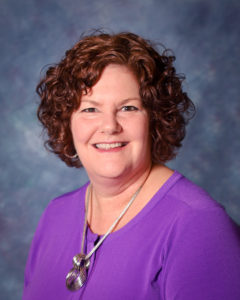 "Dr. Vizina" was born Penny Lynn Peterson to Judy and Jerry Peterson in Tracy, Minnesota. Her family, parents and two siblings, moved to Owatonna when she was 3 years old, Her father taught American History and coached the Owatonna High School Varsity Football Team for over 30 years. Jerry Peterson was also elected to serve on the Owatonna city council and later became a Steele County Commissioner.
Dr. Vizina graduated from Owatonna Senior High School in 1982. Dr. Vizina majored in biology at Gustavus Adolphus College in St. Peter, MN, where she earned her B.A with honors in 1986. After college she worked as a payroll assistant at Viracon for one year while applying to optometry school. She began her optometric career in August 1987 at Pacific University School of Optometry in Forest Grove, Oregon. In January 1988, during her first year of optometry school, she married Thomas Vizina, a native of Owatonna. While attending Pacific University she was a member of the American Optometric Student Association, serving as Secretary during her second and third year of school. Prior to her third year of optometry school she received an Army Health Professions (HPSP) Scholarship from the U.S. Army. In January of 1991 their first son, Caleb was born. Four months later in May 1991 Dr. Vizina was awarded her degree, Doctorate of Optometry.
To fulfill her obligation for her HPSP scholarship, Dr. Vinzina entered the Army as a Captain, attending her Officer's Basic course in San Antonio, TX in June 1991. Next she and her family moved to Fort Sill in Lawton, OK where she was stationed for 3 years. At Fort Sill Dr. Vizina served as Assistant Chief of Optometry and was awarded the Army Community of Excellence Medal and Army Service Ribbon. She also was an adjunct professor for the Houston (TX) College of Optometry overseeing student externship program at Ft. Sill. Their son, Ian, was born in November 1993. She left active service at the end of 1994, but was promoted to Major in the Army active reserves. In 1997 she resigned her commission.
In late 1994, Dr. Vizina took a position of Director of Optometric Services for the Sault Tribe of Chippewa Indians in Sault Ste. Marie, MI. She served in this position until September of 2010. Under her leadership, the Sault Tribe expanded optometric services from one outpatient clinic to three, hiring four additional optometrists and four additional technicians. Dr. Vizina was charged with development and supervision of all aspects of this program. She was a member of the Clinical Staff Committee and served four years as Vice-Chair on that committee. She served as a preceptor for the Pennsylvania College of Optometry (now Salus University) overseeing and mentoring students in the PCO optometric program. While in Michigan she was a member of the Michigan Upper Peninsula Optometric Society, the Michigan Optometric Association, and the American Optometric Association.
In the summer of 2010, Dr. Vizina and her family returned to Owatonna so that she could take over Family Vision Care, P.A., the private optometric practice owned by her long-time mentor, Dr. John Muellerleile. The purchase of that practice was complete on October 15, 2010. For five years she successfully provided optometric care and managed the practice at 121 W. Main St. In November 2015 Dr. Vizina joined Horizon EyeCare Professionals when the two practices mergered together and moved into their new building. She is a member of American Optometric Association, the Minnesota Optometric Association and the Southeastern Minnesota Optometric Society. She is also a member of the Owatonna Noon Rotary Club, having served on the Board of Directors as Social Chair in 2011-14. She and her family belong to St. Joseph Catholic Church.
Dr. Vizina and her husband, Tom, whose the general manger of the Oaks Golf Club in Hayfield, MN, live in Owatonna. Their son, Caleb, is a physical therapist in Buffalo, MN and their son, Ian, attends South Dakota State University in Brookings, SD where he is majoring in mechanical engineering.
---
Eric N. "Dr. Eric" Dillinger, OD, MS, BA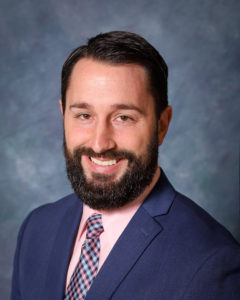 "Dr. Eric" was born and raised in a small town near Indianapolis, Indiana. He is the second youngest of 7 children, with 4 brothers and 2 sisters. He graduated from Indiana State University (Terre Haute, IN) in 2004 with a Bachelors of Arts degree in Chemistry. A year later, he completed a Master's Degree in Biology from Purdue University.
He spent the next year as a Immunology and DNA lab specialist in Indianapolis, IN for numerous Hospitals in the Midwest; monitoring patient's health while they awaited organ transplant, as well as ensuring the safety and compatibility for Donors and Recipients for Heart, Kidney and Liver transplants. He was also responsible for testing DNA profiles to establish legal parental and/or sibling relationships for domestic and international paternity or immigration cases. While he enjoyed the sciences of this career, it lacked the patient and people interaction he desired, thus he relocated to Dubuque, IA to become a Center Supervisor, and eventually Manager of a Plasmapheresis Donation Center. After 2 years, he decided he wanted more involvement in the medical field, which led him to apply and enroll at Indiana University School of Optometry.
After graduating from Indiana University School of Optometry in 2017, he wanted to pursue a goal of practicing Medical Optometry and managing Ocular Disease so he applied and was accepted to an Ocular Disease Residency in Miami, FL at Bascom Palmer Eye Institute, the #1 Ranked Eye Hospital in the United States. Here he studied and practiced specialties including Cornea and Retinal Disease, Glaucoma, Neuro-Ophthalmology, Primary Care and Pediatrics. After completing his residency, he relocated back to the Midwest to join Horizon EyeCare. Among the above specialties, he also specializes in fitting Scleral Contact Lenses, which provide improved vision and comfort for various ocular conditions including Keratoconus, Ocular Surface Disease, High Myopia and Astigmatism, and Severe Dry Eye.
He and his significant other, Shawnee, who is also an Optometrist, welcomed their first child in November 2018. His hobbies include anything outdoors and sports, and exploring his new hometown of Owatonna with his family. He is excited to get involved with the community and local organizations.
---