Penny P. "Dr. Vizina" Vizina, O.D.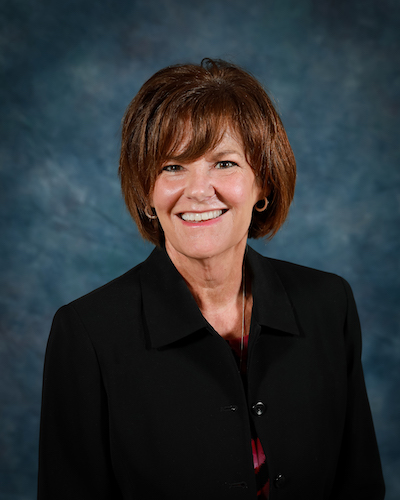 "Dr. Vizina" was born Penny Lynn Peterson to Judy and Jerry Peterson in Tracy, Minnesota. Her family, parents and two siblings, moved to Owatonna when she was 3 years old, Her father taught American History and coached the Owatonna High School Varsity Football Team for over 30 years. Jerry Peterson was also elected to serve on the Owatonna city council and later became a Steele County Commissioner.
Dr. Vizina graduated from Owatonna Senior High School in 1982. Dr. Vizina majored in biology at Gustavus Adolphus College in St. Peter, MN, where she earned her B.A with honors in 1986. After college she worked as a payroll assistant at Viracon for one year while applying to optometry school. She began her optometric career in August 1987 at Pacific University School of Optometry in Forest Grove, Oregon. In January 1988, during her first year of optometry school, she married Thomas Vizina, a native of Owatonna. While attending Pacific University she was a member of the American Optometric Student Association, serving as Secretary during her second and third year of school. Prior to her third year of optometry school she received an Army Health Professions (HPSP) Scholarship from the U.S. Army. In January of 1991 their first son, Caleb was born. Four months later in May 1991 Dr. Vizina was awarded her degree, Doctorate of Optometry.
To fulfill her obligation for her HPSP scholarship, Dr. Vinzina entered the Army as a Captain, attending her Officer's Basic course in San Antonio, TX in June 1991. Next she and her family moved to Fort Sill in Lawton, OK where she was stationed for 3 years. At Fort Sill Dr. Vizina served as Assistant Chief of Optometry and was awarded the Army Community of Excellence Medal and Army Service Ribbon. She also was an adjunct professor for the Houston (TX) College of Optometry overseeing student externship program at Ft. Sill. Their son, Ian, was born in November 1993. She left active service at the end of 1994, but was promoted to Major in the Army active reserves. In 1997 she resigned her commission.
In late 1994, Dr. Vizina took a position of Director of Optometric Services for the Sault Tribe of Chippewa Indians in Sault Ste. Marie, MI. She served in this position until September of 2010. Under her leadership, the Sault Tribe expanded optometric services from one outpatient clinic to three, hiring four additional optometrists and four additional technicians. Dr. Vizina was charged with development and supervision of all aspects of this program. She was a member of the Clinical Staff Committee and served four years as Vice-Chair on that committee. She served as a preceptor for the Pennsylvania College of Optometry (now Salus University) overseeing and mentoring students in the PCO optometric program. While in Michigan she was a member of the Michigan Upper Peninsula Optometric Society, the Michigan Optometric Association, and the American Optometric Association.
In the summer of 2010, Dr. Vizina and her family returned to Owatonna so that she could take over Family Vision Care, P.A., the private optometric practice owned by her long-time mentor, Dr. John Muellerleile. The purchase of that practice was complete on October 15, 2010. For five years she successfully provided optometric care and managed the practice at 121 W. Main St. In November 2015 Dr. Vizina joined Horizon EyeCare Professionals when the two practices mergered together and moved into their new building. She is a member of American Optometric Association, the Minnesota Optometric Association and the Southeastern Minnesota Optometric Society. She is also a member of the Owatonna Noon Rotary Club, having served on the Board of Directors as Social Chair in 2011-14. She and her family belong to St. Joseph Catholic Church.
Dr. Vizina and her husband, Tom, whose the general manger of the Oaks Golf Club in Hayfield, MN, live in Owatonna. Their son, Caleb, is a physical therapist in Buffalo, MN and their son, Ian, attends South Dakota State University in Brookings, SD where he is majoring in mechanical engineering.