Elizabeth M. "Dr. Beth" Gilthvedt, O.D. (Retired)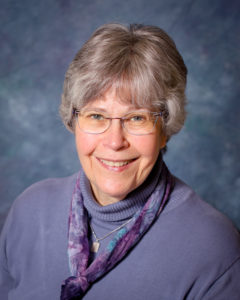 "Dr. Beth" grew up in Oklahoma City, OK and Nisswa, MN. She attended the University of Wyoming, Brainerd Community College, St. Cloud State University and Phillips University. She received her Bachelor of Science degree from Indiana University in Bloomington, IN. In May 1985 she graduated with High Honors and was awarded her Doctorate of Optometry from the Indiana University School of Optometry, where she also received several student academic & clinical awards and scholarships.
Immediately following graduation, Dr. Beth began practicing optometry at Family Vision Care in Owatonna, MN. In 1988 she purchased the practice of Dr. John Schoen, as he retired, and opened the Gilthvedt EyeCare Clinic at 118 No Oak Ave, Owatonna. From 1993 to 2010, Dr. Beth also practiced with her friend and colleague, Dr. Christine Leska, at Kasson Eye Care as a part-time associate. Dr. Beth is Board Certified in the treatment and management of ocular diseases and disorders.
In February 2008, she was chosen as the Minnesota Optometric Association's Optometrist of the Year. Dr. Beth is a member of the American Optometric Association and is very involved on the state level in the Minnesota Optometric Association and the SouthEast Minnesota Optometric Society, having served on the quality assurance, professional education and Minnesota State Fair committees.
Dr. Beth enjoys making presentations about optometry and eye health care to students in local schools, to parents in Early Childhood and Family Education classes and to senior citizen groups as well as participating in community health and safety fairs.
As a committed volunteer in her community, Dr. Beth has also devoted many years of service to a variety of local groups serving as a director or trustee of the Steele County United Way, the Owatonna Montessori Children's House and the Owatonna Hospital, Allina Health System. She is currently serving on the board of the Children's Remedial Fund. She is also an active member of the Owatonna Rotary Club having served as Rotary Youth Exchange Officer and Youth Counselor. Dr. Beth is also a member of the Owatonna Business Women's organization serving on the scholarship awards committee.
Dr Beth and her husband, "Pastor Ron" Gilthvedt, live in rural Owatonna with their son, Eric. She is an active member of Our Savior's Lutheran Church where her husband served as head pastor from June 1985, until his retirement in August of 2009.